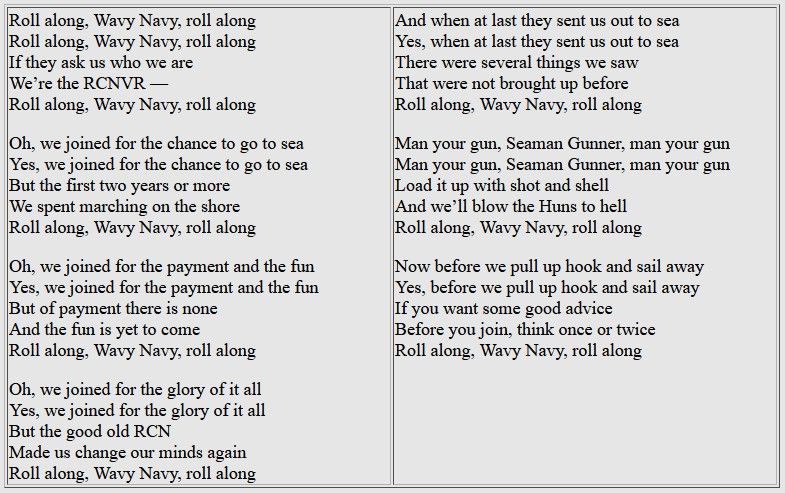 Roll Along Wavy Navy - to the tune of "Roll Along Covered Wagon"
The original verses were written in 1936 on the destroyer HMCS SAGUENAY by Gunner Patrick D. Budge (later Rear-Admiral) and Sub-Lieutenant Rufus C. Pope, who later survived the sinking of HMCS FRASER but was lost at sea on 22 Oct 1940, at the rank of Lieutenant, when HMCS MARGAREE sank after a collision with a freighter in her convoy.
The melody "Roll Along Covered Wagon" was written in 1934 by James (Jimmy) Kennedy, an Ulsterman, who served in the Royal Artillery in the Second World War. The melody was transcribed from a recording by HMCS YORK band, which was provided by Joe Cullen, CD, CPO2, Naval Reserve, ret'd, HMCS YORK.
Dedicated to all those like my Dad who proudly served in the RCNVR.... Thank You For Your Service.... PS, the Royal Canadian Navy Volunteer Reserve were called the "Wavy Navy" because the stripes on their sleeves were zig-zag instead of straight like the "regular" RCN....
Bob