I got two Aluminum-cast (Aircraft grade) stocks; one is tactical model with 6-position mil spec diameter carbine receiver (e.g. AR-15, M-16…) for standardized collapsible stocks of Carbine (for both real guns and Airsoft) with weaver short rail for forearm grip or bipot, and another one is Sporting model with cheek adjustable stock butt (see below photos); AR-15 factory grip was installed as the default grip, but I changed UTG grip later.
Actually, these are called as Lower Receiver Unit (LRU) and stock butt. The LRU of Tactical model is about 530g with AR-15 factory original grip with weaver short rail for forearm grip or bipot. And it need buffer tube and stock butt. The Knoxx 6-position stock butt and commercial grade buffer tube are 300g; the total weight is 830g (1.8lbs). (The original synthetic stock is weight 1085g (2.4lbs).) The photo also shows Magpul UBR and Vltor Emod for image reference.
Very solid feeling just like real carbine, I am very satisfied. UBR stock butt looks the best balance on this stock.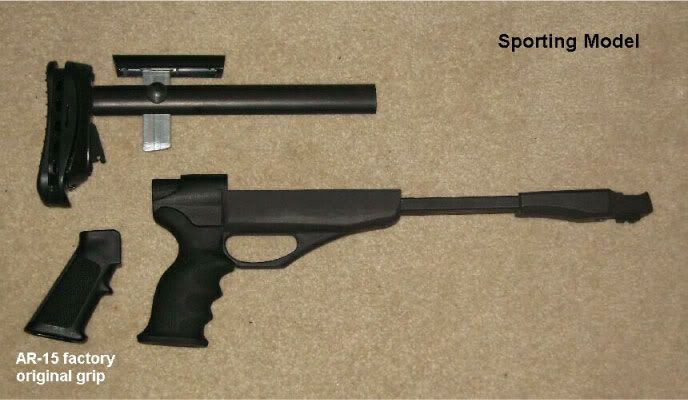 LRU of Sporting model is 550g with AR-15 factory original grip, and Cheek type stock butt is 380g; the total weight is 930g (2.0lbs). I love this Sporting stock very much, I believe nothing better than this stock by stability, feeling, balance, style.
These prototypes are made by the small Aluminum-factory, who does not have own website due to sub-contact business, the owner's son is working for new their profitable product lines, extending his hobbies. I saw Marine sports and Winter sports accessories, but PCP stocks were only stopped my eyes.
Currently he is designing the cast-stocks to be Gunpower, Stealth (Condor, Talon) looks slim shape unlike ordinal PCP balky fat shape, for Hatsan BT65, AT44 (Hale Storm Air Venturi, Hammerli Pneuma… ) group, BSA Scorpion, Gamo DynaMax group, FX Typhoon, Whisper group, he is making Tactical model, Sporting model, Competition model (Steyr looks 3-adjustable stock) for each group. He also expressed that the mass production stocks may be slightly lighter weight and finished with certain rubberized coating with stylish designed plastic covers for winter hunting. According to him, Hatsan is supplying OEM and pre-assembled OEM includes parts to various makers world widely as one of major Airgun suppliers, also the mechanism is licensed or copied by many makers, his primary target on his project. Anyway, after tough negotiation with him, I got the pictured two prototype stocks. These are for his brass Safety mod type. He also made for original Safety type stocks, but it looks kind a odd, and I asked his Safety mod type with his brass Safety. I hope his PCP stocks will be appeared on the market in the near future. I am not allowed to disclose any info for his factory, but if you have any suggestions or comments, I may pass it him.