The poker for freeing up the pipe-stem hole, the spoon for scraping the bowl,
and the elbowed device for tamping the tobacco to the correct density for the
moisture content. That is a learning experience. Used to have contests with
other pipe smokers - load, tamp, light with one match - winner was the longest
still (lit) smoking. With time, one merely uses an index finger, not a tamper. I
rather preferred to use a .450 Alaskan ctg, spend primer, but with a 500gr. cast
bullet seated.
LOL
When we toured the parliament buildings, many years ago, the front-door-guards
confiscated it along with my pocket knife until we were finished.
It looked just like the one on the left, except the bottom was covered with ashes
however, the spent primer was visible. The ctg. on the right, is the same one, but
for a bolt actioned rifle with a magnum bolt face. I call it the .458 Alaskan. It duplicates
the .458 Winchester Magnum and then some. I easily passed 2,200fps with it using a 500gr.
bullet. The case capacity was 7gr. higher than a .458 Mag. I own that chambering reamer
as well. The rim of the .450 Alaskan(blown-out .348 Win. necked up to .458) nicely fit in the
bowl of the pipe I was smoking most back then.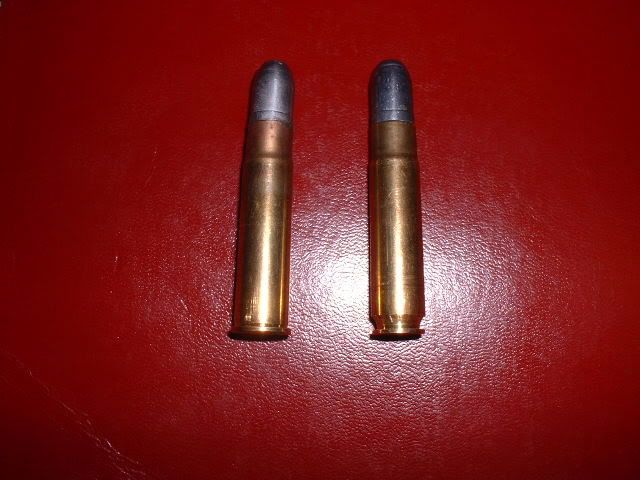 .