Fore sale Beretta 92FS, made in Germany by Umarex.
Original box, papers, 2 mags and 1 powerlet.
Got this gun as a part of trade deal.
The gun is new, never fired (as I can judge by the intact seal condition inside the grips),
not a mark on it!
Update - it is not new anymore!
One powerlet through it

I got message from reputable forum member with suggestion to test the pistol, so the chances to sell it will be higher.
So I decided to go ahead and check seals, get chronied it and did accuracy test.
Drop of pellgun oil on powerlet and here we go
No leak at all, hold gas perfectly!

Chrony at 18 C (cold in my basement) with JSB match pistol : 349, 338, 340, 331, 324, 326, 320, 318 FPS; average 330 FPS
Quite consistent!
Two clips into standard Gamo targets , 8 shots each, standing unsupported from 7m: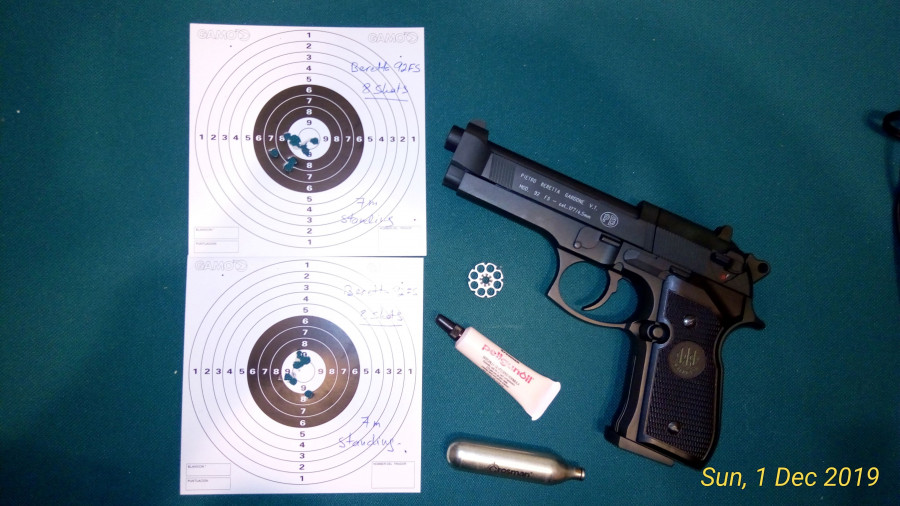 The groups are very tight and consistent, which are typical for this air pistol. Well centered, aim point under bulleye.

Thank you for interest!!!
____________________________________________________________________________________________
Price drop --> 200$ shipped
One sealed tin of quality match pellets added to sweeten a deal
This is a Non-Regulated firearm.
You must be 18 years or older, but you do not require a PAL to purchase and possess.
more info:
https://www.replicaairguns.ca/beretta-m92fs-pellet-airgun-pistol#actualcolour=Black
https://dlairgun.com/collections/beretta-pistols/products/bm92b