Shooting 1 MOA at 50 yards with a pellet-shooting air rifle is more often said than done because it's easier that way. Why? The greater the distance the more that can go wrong, especially when wind is factor. Even a barely noticeable 1 mph change in wind between shots would cause 0.57" drift at 50 yards with an 18 grain .22 pellet with an MV of 950 fps. At 100 yards a 1 mph crosswind will drift the pellet over 2.2". With that much wind drift, it is necessary to shoot under conditions where there is an absence of wind. Even with wind flags, reading the wind can be a difficult task, especially when shooting pellets. In addition to that, unsorted pellets have sufficient variation in size and weight to add tremendously to the challenge (but that aspect can be discussed at another time).
A properly set up .22LR can be superior to air rifles in many ways, except perhaps one. That is consistent MV. A good PCP can produce extreme spreads of under 10 fps. With .22LR, the ES of the ammo can vary considerably, even with top tier match ammo. Anyone who has shot .22LR for accuracy is wasting his time with bulk ammo, especially high velocity bulk ammo, which has too great an ES and is too inconsistent in other ways to be worth considering. Match .22LR ammo is made in batches called lots (pellets are also produced in different batches or lots). The best top tier match ammo may have an ES of 10 fps, but such lots are hard to find. Rimfire shooters looking for good .22LR ammo can expect to have extreme spreads of 30 - 40 fps. A 30 fps difference in MV between .22LR rounds will result in 0.11" of vertical at 50 and 0.81" at 100 yards. To put this another way, a 10 fps difference between rounds means 0.07" of vertical at 50 and 0.26" at 100 yards.
By comparison, with a 10 fps difference in MV on a good PCP, the difference in vertical with an 18 grain .22 pellet at 960 and 950 fps at 50 is about 0.1" and at 0.45" at 100 yards. (Note: these figures are approximate because it seems Chairgun can't be manipulated to give more exact figures).
The above shows how, in terms of vertical spread on target, consistent MV's are more critical as target distance increases. A good PCP should give more consistent MV's with a smaller ES than a .22LR.
When even a slight change of wind comes into play, however, the .22LR round is much superior. As noted above, with a 1 mph change in a crosswind between rounds, the pellet will drift 0.57" at 50 and over 2.2" at 100 yards. By comparison a .22LR round under the same change in wind will drift 0.006" at 50 and 0.02" at 100 yards. Obviously the typical 40 grain .22LR bullet is much less influenced by the wind. And what's important to note is that the wind drift figures given are for a 1 mph change in crosswind between shots. Such a change is barely noticeable to many shooters, but it can be very noticeable on the target.
To recap, the PCP is more likely to give more consistent MV's than a .22LR. At the same time, if there is wind involved, the .22 pellet is more subject to the influence of the wind than the .22LR bullet.
One of the things that many serious bench shooters do to improve their rifles is to use
tuners
. Since .22LR ammo can't be loaded to a shooter's needs, shooters use these muzzle devices tune the barrel to the ammo. A tuner is a device attached to the muzzle of a barrel. It has a moveable weight on a graduated scale. Here is a simple explanation of how it works:
"It is possible to "Tune" a rifle barrel so that where it is pointing at bullet exit time will compensate for small variations of muzzle velocity. In the "tuned" condition the slower bullets are launched at a slightly higher angle than the faster bullets. The difference in launch angle can allow the slower bullets to hit the target at the same elevation as the faster bullets."
For further details, see
http://varmintal.com/a22lr.htm
Below is a rifle with a tuner.
Tuners come in many different designs. The most common is probably the Harrell tuner (shown below). The end facing up in the photo below is bored to fit the outside diameter of the muzzle. What appears as the vertical scale in the photo goes from 0 to 5. Four revolutions of the outer part of the tuner moves it from 0 to 1 and so on. Once the shooter finds the best setting(s) on the tuner, his group sizes will shrink appreciably.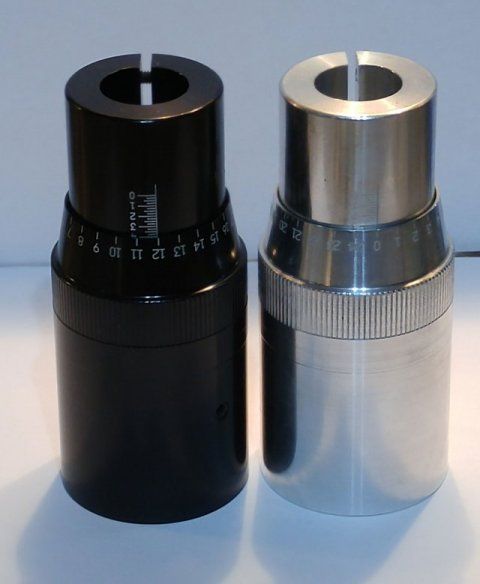 Other tuner designs incorporate a tube, often carbon fiber, that can act also as a bloop tube, giving position shooters like those who shoot in Olympic style competition, the benefit of a tuner and an extended sight radius. Below is a Starik tuner tube on a BR rifle. If used on a rifle used in Olympic style shooting, the front globe would go on the end of the tube.
For serious, competitive .22LR bench rest shooters, a tuner is absolutely necessary. It would be impossible to compete without one because of the accuracy advantage it confers. Of course there are shooting competitions that don't allow the use of tuners or have weight restrictions that preclude some rifles from using them. But since there is no way to hand load for .22LR, the most exacting shooters use tuners to get the most out of their rifles and ammo.
Can a tuner make a difference on a PCP? That is an interesting question, perhaps best left for discussion at another time.