It turns out that I will also be getting a .22 cal LW pellet barrel with a VERY slow twist, compliments of Mike Niksch of Thomas Benchrest Rifles.... I helped Mike decide what to get for shooting 25.4 gr. JSB Monsters at 100 yards (he is trying to beat rimfires) and it is working well, so he is sending one as a thank you!.... Here is a 25 shot group he shot at 100 yards (looked like he pulled one)....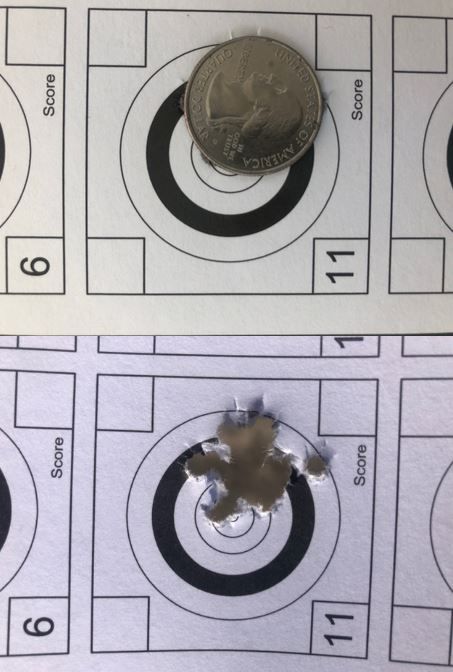 I decided I will make up an upper to either fit on this gun, or since I have a pair of SIG 450 cc, 250 bar bottles, I might make another lower for it.... In any case, I borrowed the concept from my Monocoque .257 and came up with this unique way of marrying the barrel and breech....

I have a meter long piece of 16mm ID (to fit the LW barrel) with a 20mm OD, and I have ordered a piece of 5mm wall CF tubing a meter long, 20mm ID x 30mm OD, to slide both it and the breech into.... Barrel in green, breech in blue, bolt in red above.... The breech will be 20mm OD, turned from 2024-T3, and sealed to the barrel with an O-ring.... The resulting assembly should be about the same stiffness as a 1-1/8" OD steel barrel, at a fraction of the weight....
Sidetracked, maybe, but this should be fun!....
Bob