So I was curious to see what was inside my Crosman 1008 and took it apart a few days ago. I don't recommend doing this, as little parts will fly all over the place if you're not careful. And when you get it back together its like a mouse trap - one false move and it unsprings again.
I found that my gun didn't have two of the little lead weights that are in the exploded parts diagram from Crosman. So I made some. That was a pain. I melted up some lead in a pan and then shaped it into "ingots" that fit in the slots designed for the weights in the gun. See picture:
Here's one of the gun all disassembled. Lots of small parts.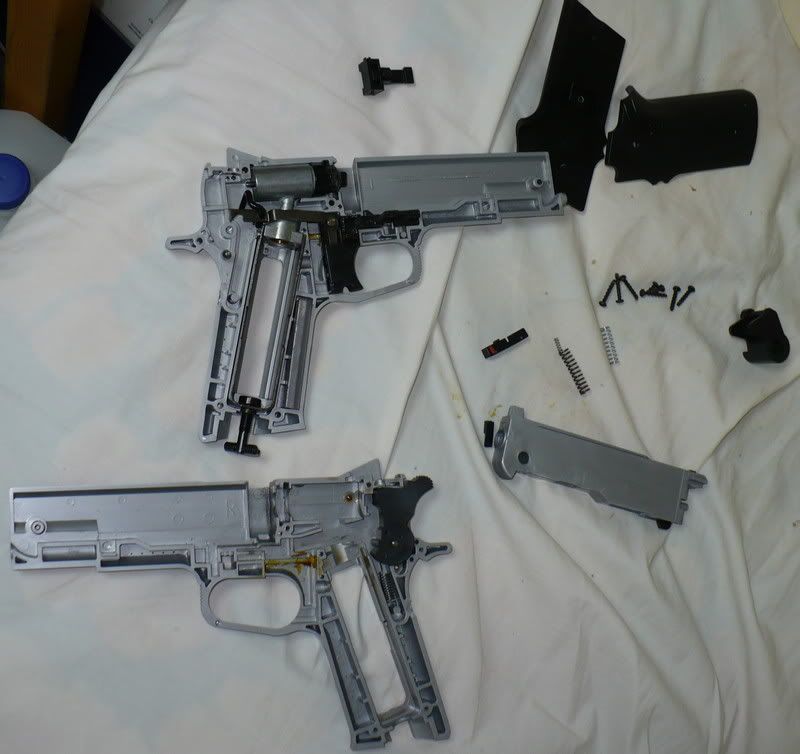 And here it is right before putting the halves back together:
I also added a wad of axle grease in with the little bent-wire thing that strikes between the hammer and valve pin. This keeps it from rattling in the gun. I hated that rattle.
One other problem was that I added a dab of silicone on the barrel to keep it from rattling around in its housing (not shown). This is causing problems, though, because now the clip doesn't index properly and the gun misfires. What happens is that the clip doesn't exactly line up the chamber with the barrel, and when you pull the trigger the pellet jams against the end of the barrel - the gas escapes out of the chamber. So now I have to take it apart again and get rid of that silicone dab, so the barrel can float.
Now you see why this isn't recommended.