Sorry, wont be posting any pics. This is not one of the new cheapo 760s with the plastic reciever halves, this is one of the old ones with brass bolt & Zamac receiver halves.
The Crosman parts diagram section of the Crosman USA website shows it as this variant:
Quote:
Pneumatic, .177 cal, pellet/BB repeater, Styrene stock & wood forearm. Self cocking steel or brass bolt.
This one has a styrene forearm though.
Here is the link to the parts diagram for my rifle:
http://www.crosman.com/pdf/manuals/C760 ... &%20PL.pdf
A pretty simple rifle to work on, the only thing that bothers me is the lack of cooperation for getting the seals kits, and it seems that Crosman service centers in Canada hire (?) to talk on the phones.
I had a hard time making out this old parts diagram, not sure what part is which from this old line drawing.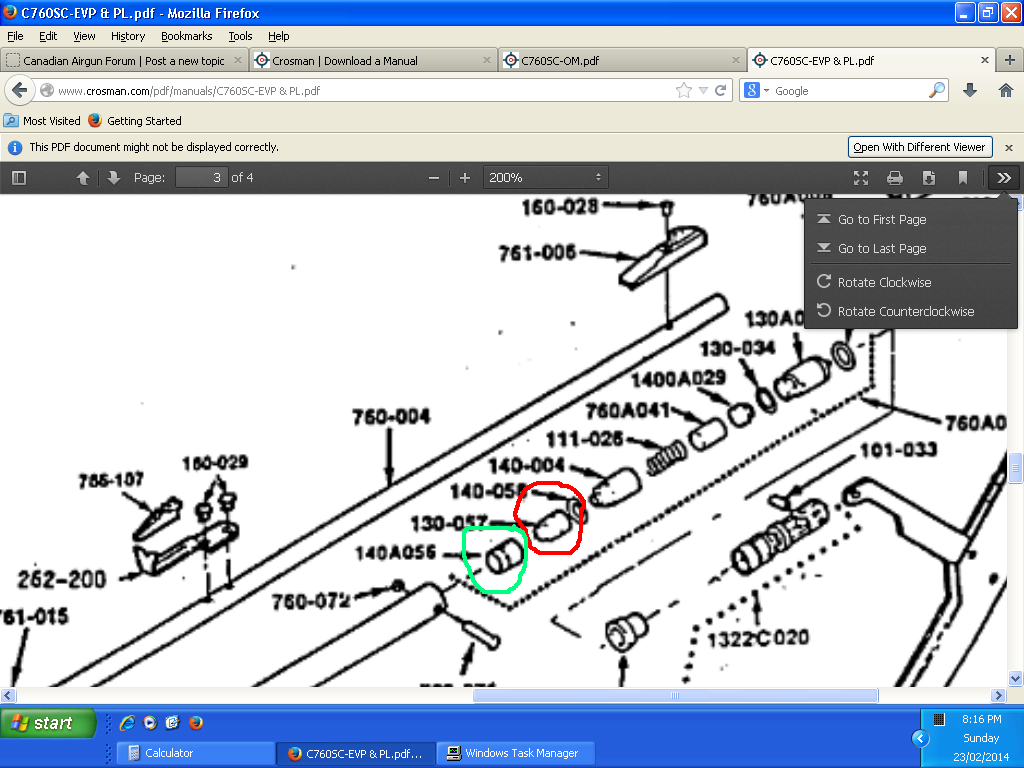 In any case, the part I may need is a small brass piece with an o-ring on the inside diameter, and it has an o-ring on the outside diameter, so from this old ink drawing, the part I need might be: 140A056.
Not sure what the problem with Crosman Canada is, they seem to be always holding out and hoping you relent and send in your rifle for service. Not really interested in that, just interested in getting the relevant part.
I guess my next stop will be the crooked barn people. Bryanac does not ship north any more.
**** EDIT****
I put the rifle together leaving out all the bb feed parts as I don't like the idea of dumping bb's in the rifle & maybe forgetting to remove them after a shooting session. The bb feed mechanism does not interlock with the rifle action in any way I can tell, so it should not affect the operation of the rifle.
As the rifle is self-cocking, maybe I didn't pump it up enough, or maybe the little brass part I was referring to has failed.
While watching this youtube video (below), he mentioned this little brass sealing part fails quite often on these old self cocking Crosman 760 rifles.
http://www.youtube.com/watch?v=d9Jn218kFTA
Cheers and thanks for any information you can give.
PS: I have a Healthways Plainsman pistol for sale, looking for an honest buyer for her. :p