I decided to try the 6 screw mod on the existing barrel band. First I had to enlarge the opening for the barrel to be free floating. I carefully tightened the screws to just touch the barrel using a light from behind to guide me. The barrel is so long and thin it would easily bend before my fingers noticed any tension on the Allen wrench. I let the Loctite set overnight and tried the gun. The poor results left me scratching my head. It must of been the screw tension that was causing the erratic groups. I tried moving the barrel in the band but it was solid. I loosened the top screw a quarter turn and I could hear some clicking when I tried moving the barrel. The results were no better but it might of been because the barrel was still touching the 2 lower screws. So I tried loosening them but it might of been too much because the groups were the worst yet. The key was getting the screws adjusted just right and it might of also been because I didn't grind the end of the screw flat like Bob suggested. Anyway I thought I'd use a method I tried on another gun. I removed the set screws from the barrel portion of the band and used the handy holes to squeeze in silicone. I let it set and bingo!
Many people use the term tack driver but I thought I'd prove it.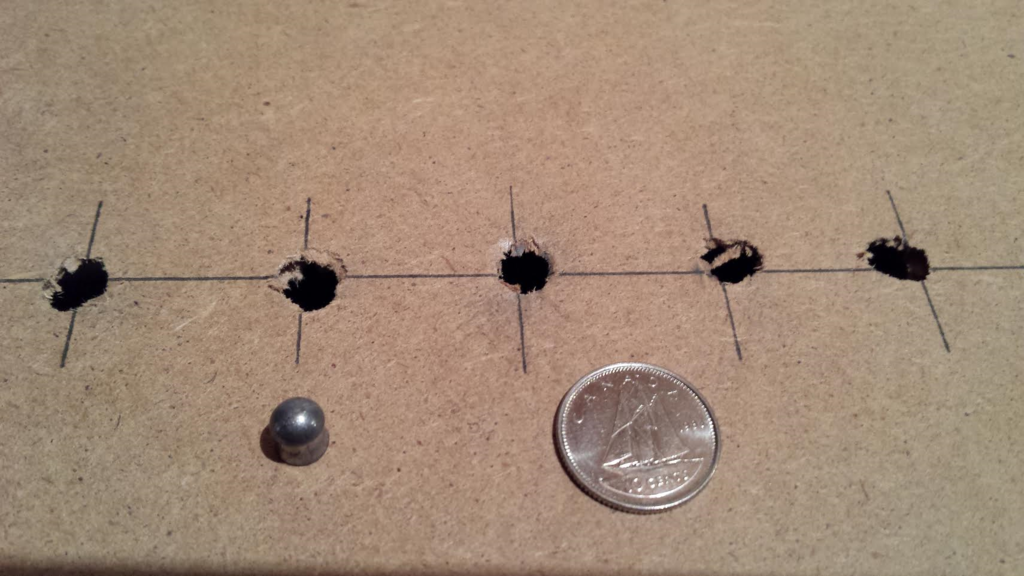 It took 3 attempts at the 5 tack sets from 12.5 yds. but it was a lot of fun. First I tried wadcutters thinking they'd do a better job of hammering but the Crosman FT pellets are more accurate in this gun.