My goal on this project is to build a 70+ fpe .25 cal tack driver. Why would I choose an expensive and finely tuned 40fpe rifle to modify? Well quite simply it has everything I want in a rifle except for that extra 30fpe.
Before I opened it up I cleaned the barrel and took these shot strings. Each string started with a full fill of 200 bar and ended at about 135 bar and the air tube holds 231cc.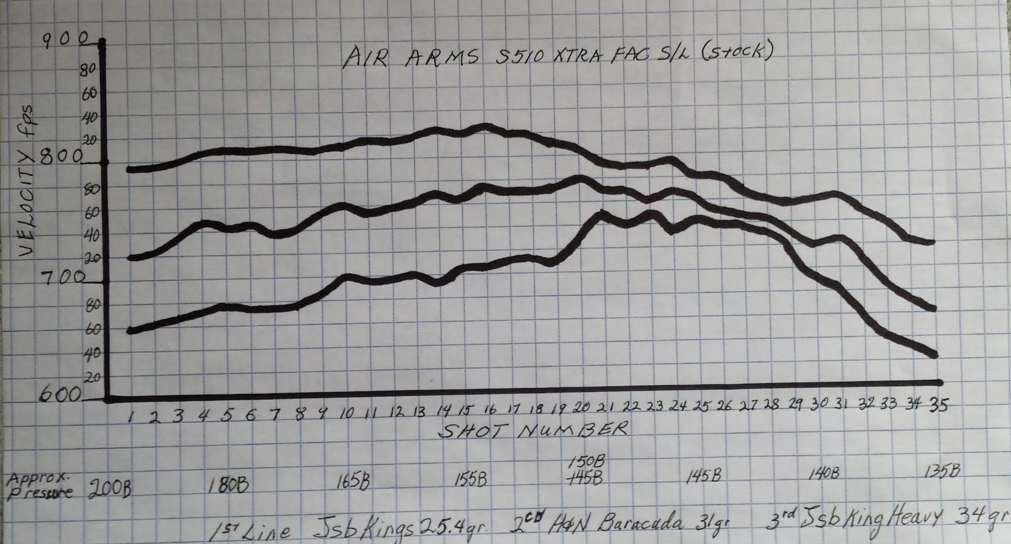 The first thing I noticed and I don't know if it's common but the heavier the pellet the later it peaked in velocity. Also the lines were relatively smooth and I credit that to Air Arms use of a 'Pot'. It's a 4 by 1/2" brass chamber that leads to the air inlet valve and has a small hole at the other end to take in air from the main air tube. It works, I believe, by limiting the volume of air per shot. Clever for a high consistent shot count but it reduces the potential power so I'm removing it and will later install a pressure regulator.
No matter what else I do to the gun, the first thing will be opening and equalizing air flow through all the ports to near bore size. There is a blow up diagram at this site
http://cdn.pyramydair.com/site/manuals/ ... manual.pdf
. I couldn't find a schematic showing the power adjuster.
This crude and so not to scale drawing shows the layout of the main parts.
Bore ID is 0.25", bore area is 0.0491sq. in.. Pellet probe OD is 0.1190" and I plan to reduce that to 0.0787" (2mm) for a probe area of 0.0049 sq. in.. If we subtract the probe area from the bore area we get an area for air flow of 0.0442 sq. in. or the equivalent diameter of 0.2372" or 15/64" a common drill bit size. Therefore my goal will be to open all ports to a diameter of no less than 15/64" or it's equivalent area which is 95% of bore. The valve seat ID is 0.1320" or an area of 0.0765 sq. in. and the valve stem has an OD of 0.1551" or an area of 0.0189sq. in. Subtracting the stem area from the seat area we have 0.0576sq. in. which is larger than my goal of 0.0442 sq. in. so I'm OK there.
The other ports have an ID of 0.0158" so they will be drilled out to 15/64".
The barrel port will need extra attention because if I were to drill that large a hole through it the front of the pellet would partially fall into it and be deformed before it gets fully chambered. So I'll drill the barrel port most of the way through but not into the chamber. Then I'll use a dremal bit no wider than the original port hole to elongate the port hole on the chamber side so the resulting air flow should match the other ports and the pellet will pass by unscathed.
The power adjusting port will be a challenge since the shaft's diameter is less than my target port size. I can't just drill through because the resulting two halves would go fling out on the first shot. Also I can't replace it with a larger diameter shaft because there is no room in the valve body.
I plan to turn down an aluminum rod to fit snugly into the adjuster shaft hole. It would be held in place by a screw on either side of the not yet drilled port hole. Also I'd use epoxy for extra strength and sealing although I'm not sure if epoxy is the best choice there. Then I could drill through the valve body and aluminum rod to form the port. I never would have used the power adjuster anyway.
When all the porting is done I'll reassemble and take another shot string and figure out what needs to be done next. If anyone has suggestions or comments I'd love to hear them.