Although not identical to the AT44 stems and being BT65 stems, the 'work' is similar. Start with a sub 500fps stem, and turn off just a tich of diameter. A lathe is prefered, however a 3/8" electric drill held in a bench vise and a fine mill bastard file will do the same work.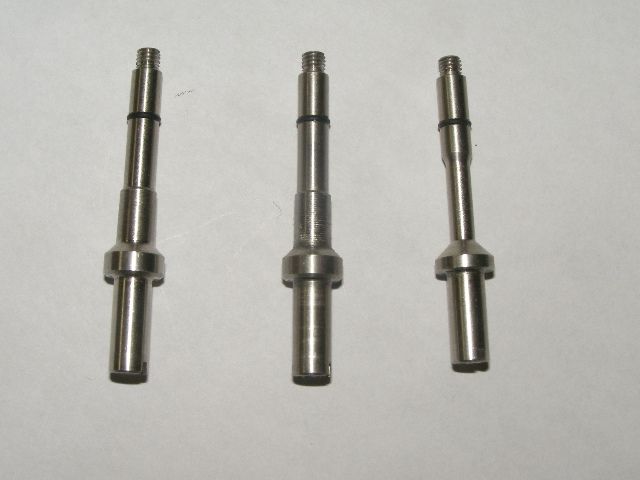 Left is a stock, 500fps stem. Middle is a 20fpe stem with VERY slight reduction of the stem's "shank" diameter. A very little metal removed allows a LOT more air due to the pressure of a PCP.
The third is a full power stem, ie: 1,300fps or more. Note from it's shape, it is a waste of air. Something between the middle shank and third from the left, is the desired stem shape. I would think even a straight shank would waste air and perhaps deliver higher speed than useful. Try for about 900fps to 950fps.
Note the middle stem and now only a slight amount of material was removed. THUS, one removes only a tiny amount, then tests using a chronograph. The angle (shoulder) of the sealing shank must be maintained.