---
No trout that I am aware of....

The cabin is frame construction, with rough-sawn lumber.... It has a dug basement under it that was done much later, in the 1980's.... Originally accessed from a dug stairwell outside, under the wall, that doorway is blocked and backfilled on the outside, and the basement is now accessed through a trapdoor in the floor (under a rug)....

It has a full-sized wood cook-stove for heat, little if any insulation, and a split sleeping loft above the main floor (ladder access in the middle), with two double-sized foam mattresses, one in each loft.... The opening to the loft is very close to the stove, to heat it in cold weather.... The loft is unbearably hot in the summer, even with the windows open for ventilation....

There is a free-standing wood-fired sauna adjacent to the cabin, complete with an outdoor claw-foot tub, shower and sink, and there was a running water system, fed from a pond about 100 ft. above the cabin, but I wouldn't want to use it for cooking or bathing, let alone drinking, as there are cows that drink from the pond, and of course leave deposits behind as well....
.... There is a propane stove, which we have never used, and a propane fridge that is converted to an icebox.... The condition of the inside is amazing....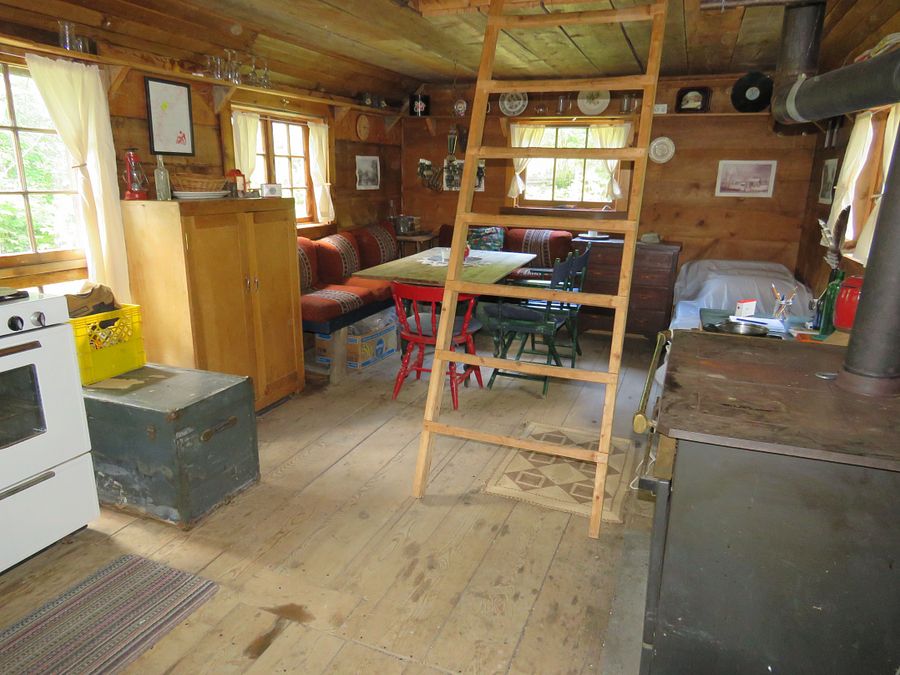 You could literally move in, but boy would the life be hard.... Access in the winter by snowmobile only and in the summer by ATV or 4WD vehicle.... My wife once thought she would like to attempt something like that, but once she caught a glimpse of how hard life would be, quickly realized it was not for her.... I never had any doubt it was not for me, I like my comforts too much....


There is an old Placer site on Granite Creek, you can see it in this photo I took from an ATV trail....




That trail ends at a landslide about two-thirds of the way down from the cabin (where I took the photo from), and as you can see that is still about 150-200 feet above the canyon.... The rock wall opposite is on the other side of Granite Creek, which is hidden from view by the steep terrain....


Bob