Some background
: I bought a 2240 quite a while ago just to take advantage of a sale. I didn't even go through a single CO2 cartridge before it ended up on my work bench under a pile of junk and I almost forgot about it. Feeling guilty about neglecting it, I ordered a steel breech and Lothar Walther barrel for it…and then all of it sat unassembled, buried under junk on my work bench for another year or so. Fast forward to about a month ago when I caught wind of a new Pistol Division in Field Target. I finally got off my butt and started putting things together. Apart from the BSA 2 power pistol scope,
everything
on this gun is
FACTORY
or in other words, readily available from Crosman. Here it is:
This is a standard Crosman muzzle brake, nothing fancy:
This shows the Crosman steel breech and trigger shoe:
This shows how I shot the pistol while testing various pellets:
The .177 Lothar Walther barrel pretty much shoots any decent pellet quite accurately. It likes JSB Express best…but those tend to be just a tad…ahem…too hot
. Not too far behind is the JSB Heavies in 4.52mm. Here is a typical 10 shot group at a measured 25 yards:
This is what it can do at 15 yards: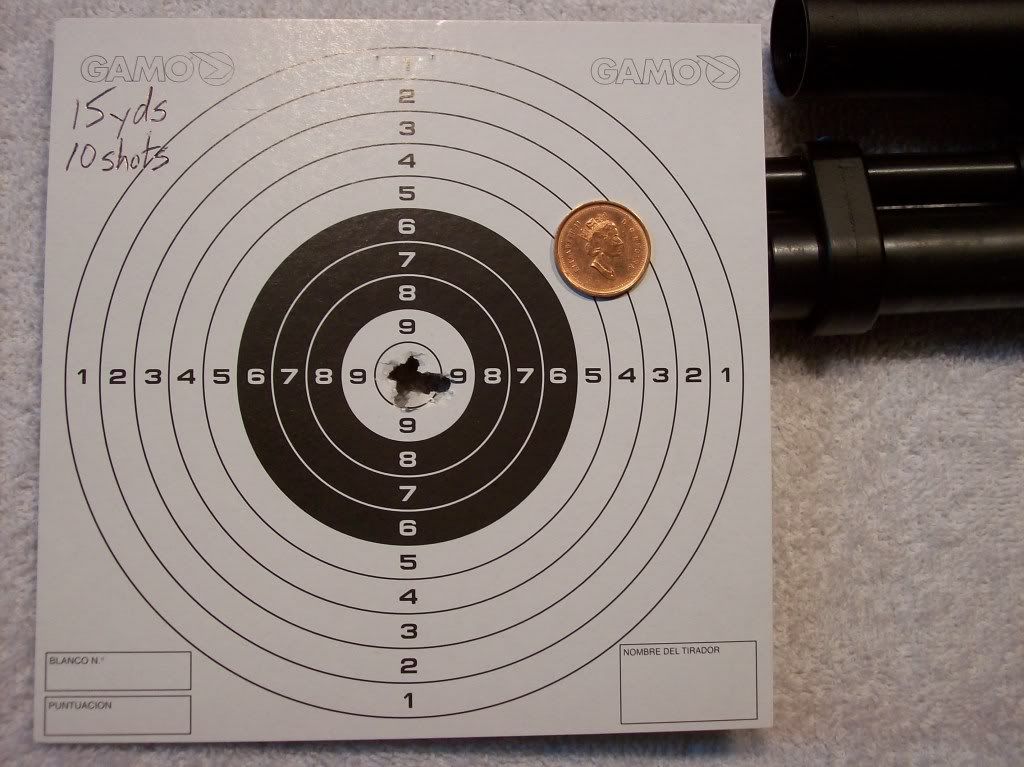 At 10 yards and closer it can cut a clean single hole using wadcutters with boring repeatability! I was surprised by the valve consistency. Here's a 10 shot string fired over my chrony:
JSB Heavies
1- 470.0
2- 472.7
3- 472.8
4- 469.4
5- 472.9
6- 472.7
7- 471.0
8- 470.3
9- 471.4
10- 471.4
Average velocity- 471.5
Extreme spread- 3.52
Standard deviation->1.00
I'm very happy with the results and it just goes to show, half decent results are possible for the non-machinists out there.
P.S. The trigger is heavy and gritty and it sucks!
But in order to truly live up to the factory non custom monicker, I'm leaving it alone…at least that's what I'm telling people...