thanks guys,
well had some time with my son and he wanted to work on the airguns
so we worked a different barrel for this project.
I picked up an older 18" Crosman barrel, walked to the lathe and my son said "can I do the work?", my response, "grab your glasses!"
I asked how long should it be, lol he says "ohh about here", turns out he was close to where I wanted it, marked it at 16.25", changed to the parting tool and gave a quick refresher on functions. with the power off to start he lined up to make the cut, turned the power on and away we went.....I had to get him to speed up the in-feed just a bit but it went pretty good!!!
Next I explained the crown and he seemed to grasp the idea pretty quick. so a quick change to the facing tool (side note I showed him the old 4-side bit holder, he was glad I had the QCTP
) and cleaned up the muzzle. next we cheated and chucked up a 60* countersink bit in the tail stock to make the crown, cutting until there was a solid 1/8" land for the crown. he changed back to the facing tool and re-faced the muzzle until the land was ~1/16".
I took over with the sandpaper to polish, starting at 800grit ending at 1500grit.
he spent about 20min with q-tips patches and a jag, cleaning the barrel (from the breech end) no snags
we reassembled the carbine and here is the result, with the magpul stock the LOP is 12" at the shortest 15" at the longest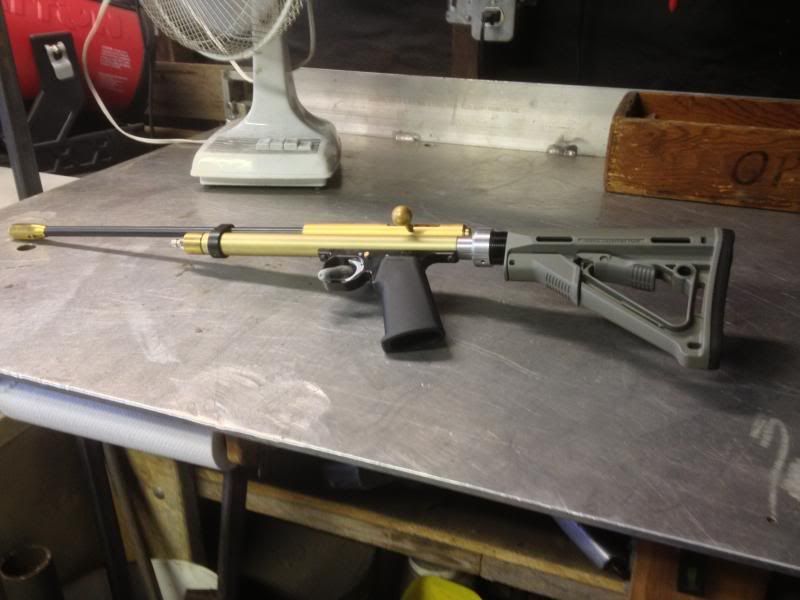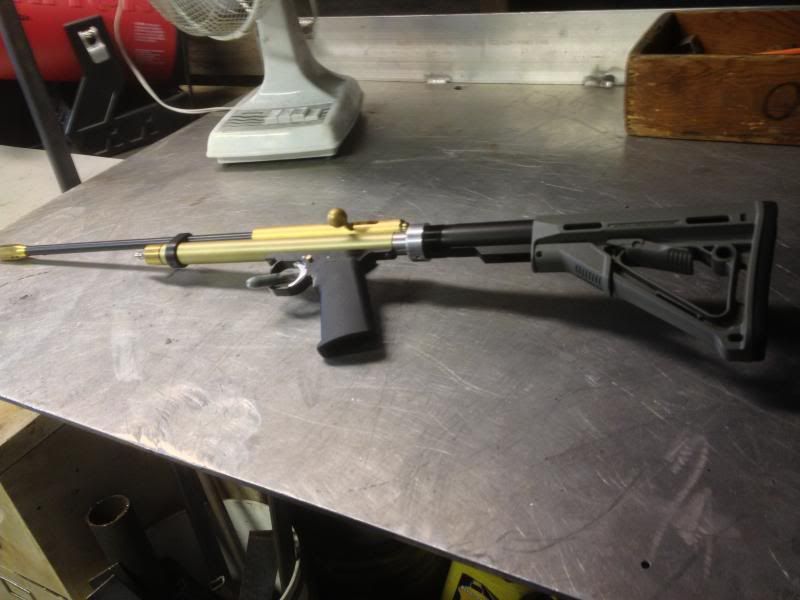 One thing I don't think I mentioned is the stock adaptor Rick (rrdstar) made has a rva built into it, sort of hard the see here but the hammer spring is very accurately retained by the stock adaptor which is threaded 5/16-24, with the use of a set-screw/grub screw, once the tune is set the buffer tube can be installed and no worries to be had of it changing!!!
we will hopefully get to some tuning done on this next weekend, but for now, the chrony results are promising
GT