Ok so here are some quick numbers and accuracy test, mind you I haven't been shooting in a long time
especially with a pistol, lol....so don't be to judgmental
for those that don't know or if I forgot to mention this is a .22 cal pistol.
chrony #'s high of 330 low of 318 over 10 shots
don't know exactly how much shots per Co2 because I hade taken a good amount of dry fire shots
after I had made the repair's to check for leaks, so I'm just going to take a guess because
after I had finished my target shooting just after the last shot the blowback had stopped functioning
due to low Co2 level, you could still cock the hamer and fire a shot just no blowback action, so I'm going to guess
around 30 good shots per Co2 cart.
target was shot at 5m standing offhand 5 shots and fast, after all what's the point of a nice blowback if your not shooting fast right.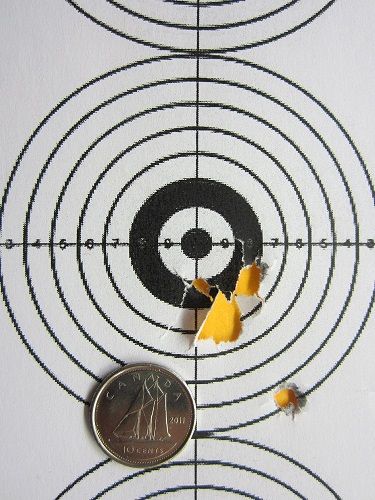 _________________
"A candle loses nothing by lighting another candle"