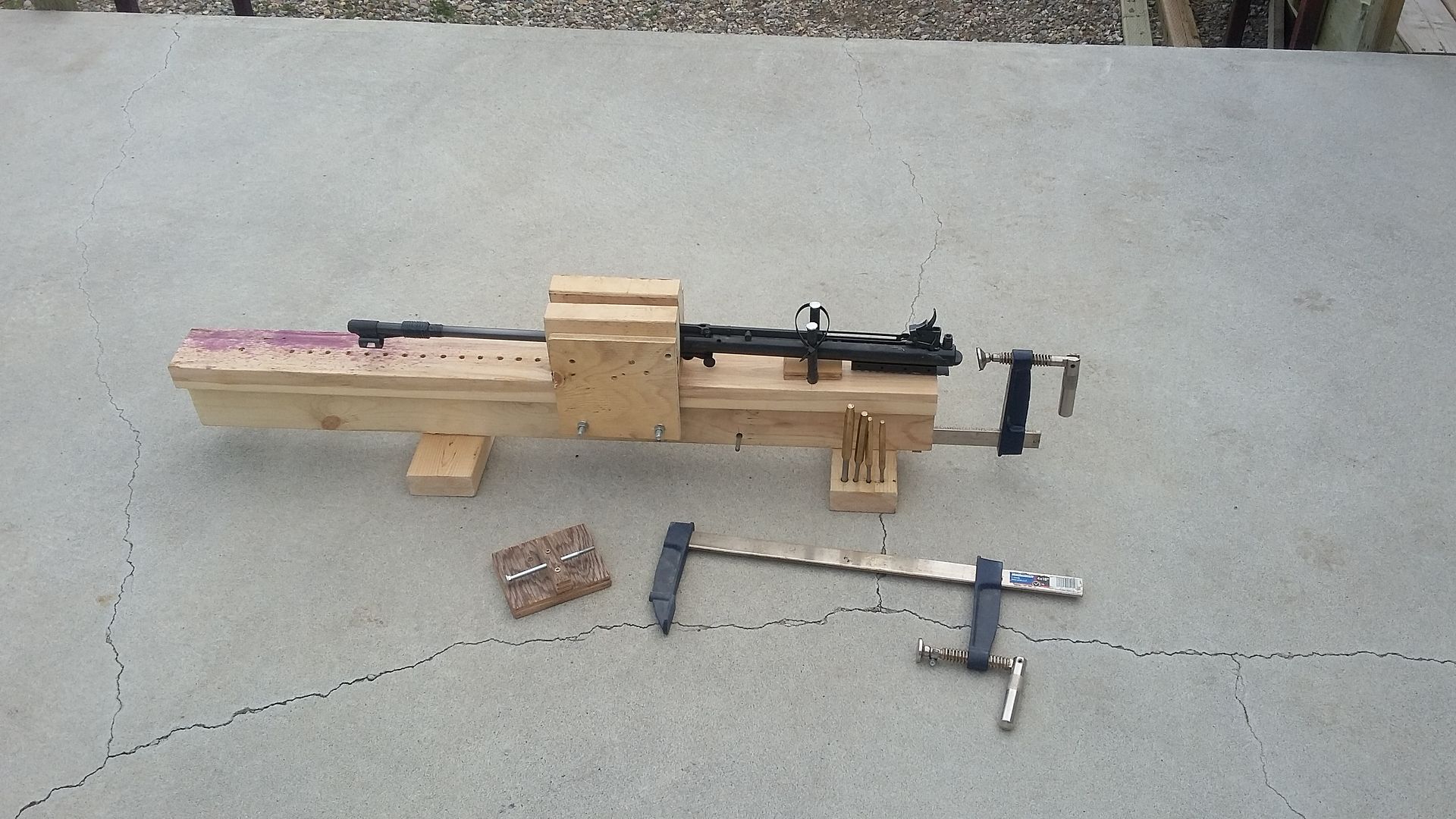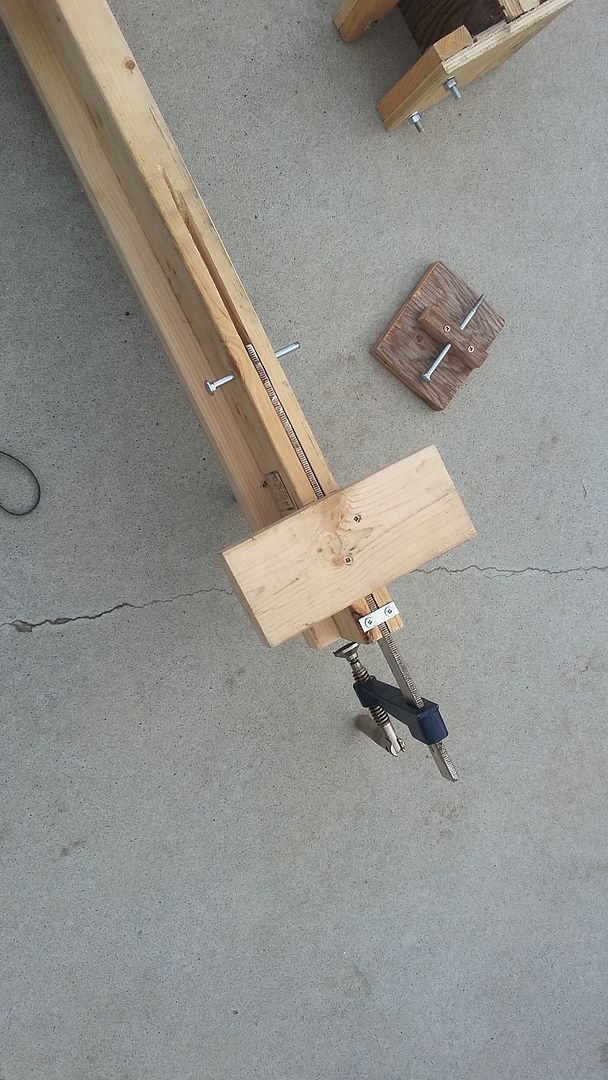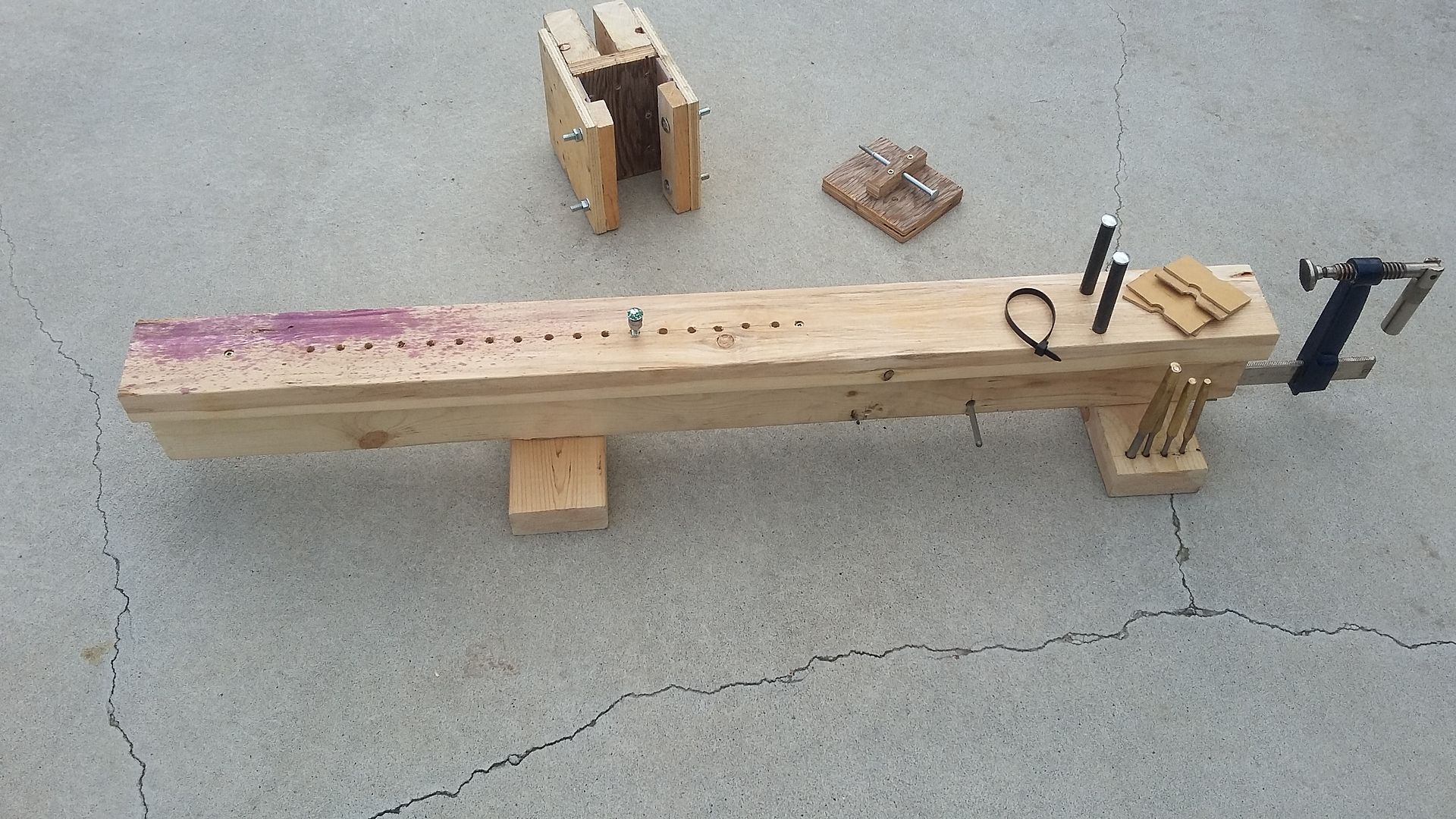 Okay. I think I got it.
The first photo is the compressor with the innards of my Quest in place. Normally I would remove the rear sight and the Picatinny rail, then "level" it with the shims and tighten the re-usable cable tie over top.
The two vertical "pins" are 1/4" lag bolts inside 1/4" id fuel line.
I use the punches to push out the retaining pin when the spring is sufficiently compressed. I like to have the smaller sizes handy too so that if I need to do adjusting before removing the spring or installing it, I can put a smaller punch in as a temporary measure.
The "F" clamp is similar (but longer) than the one I used to make the compressor, and the piece of plywood is the cover for the traveler so that I can use this compressor with my XS46U by moving the traveler to the far end. The cover is held in place with a pin (bolt minus threads), and the traveler is also retained by a pin.
The second photo is everything in place without anything on it. The long 2x4's are 40" long. I have a bicycle inner tube patch on the front of the swiveling clamp face to avoid slippage and it's stayed in place for a lot of clampings.
The third photo is the underneath. I modified the clamp I used by drilling out the pin that held the non movable end in place, cutting a groove in the 2x4, setting the clamp in, and putting a pin to hold it. It is also held in place by the short 2x4 and the metal piece. Also in the photo are the flat front for the traveler, and a bit of the traveler detail.
The final photo is more detail showing the traveler, the traveler front, the shims, and the pin I use to hold the traveler in place.
I've used this a lot (the top 2x4 is new because I made a sloppy job of the holes in the original
) and it hasn't let me down or even made me nervous. It holds the guns very securely.
The holes in the 2x4 are 1" apart and then I can adjust the clamp in about 1/8" increments. This set-up gives me just over 3" of thread on the clamp to release a spring or compress it and that has been enough for all my guns.
I've used the compressor on a Umarex Surge 1200, Crosman Quest 1000, XS46U (PAL), and a Crosman Nitro Venom (PAL)
When I'm done, I just hang it on the garage wall, clamp side down on a bolt that sticks out of the wall.
The only cost was the clamp (around $20 at CT) which I already had. The rest of the stuff I had around.
I hope this helps.
Peter