It's becoming a pattern that when I post a question I then start searching how Bob would've handle it. I guess I should search his solutions first but there may be others with other ideas I'd love to hear also. Below is Bob's post that I found .
The simplest and best mod IMO is to replace the hammer spring with one made from 0.040" wire (stock is 0.035").... That will allow the Disco to dump 2000 psi in the same manner as it currently does 1600 psi (ie at the top of the bell-curve).... This means, of course, that in order to rebalance the shot string you have to fill to 2400-2500 psi (ie the top of the yellow zone) and refill at ~1400 psi instead of ~1100.... Crosman don't say in their instructions that this is unsafe, only that you will lose velocity.... which you won't with the heavier hammer spring, you will gain velocity.... Calculations done by many different people tend to show that the weak point in a Disco is the valve mounting screws which should, in theory, fail at ~6500 psi.... It is up to you to decide if you feel safe filling the Disco to more than 2000 psi....
How much difference does the stiffer hammer spring make?.... Basically it bumps the gun up to MRod power.... With NO other changes (not even an RVA) you will gain ~80-100 fps depending on pellet.... which puts the gun up to ~29 FPE.... If you fit an RVA (rear velocity adjuster / power adjuster / hammer spring tensioner) then you can increase the power even further.... up to about 34 FPE with the heavier pellets.... Here are some shot strings with the heavy hammer spring just shy of coil bind and NO other modifications....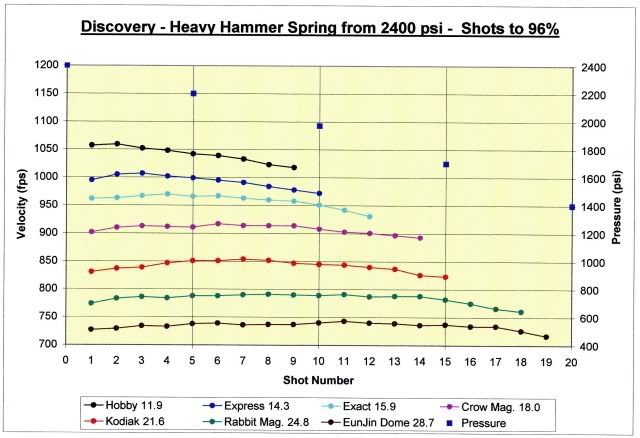 Note that I only included shots which were within 4% of the maximum velocity for each pellet.... Also note how flat the shot strings are.... If you start hogging out the ports you can get even more power.... HOWEVER, the shot strings will become more curved and therefore shorter.... You will notice that the lighter pellets are travelling too fast (transonic) and the shot strings are also limited by the 2400 psi filll chosen.... This state of tune is at its best using 18 gr. and heavier pellets.... in particular I like the JSB Exact Heavy and the Kodiak/Baracuda.... as both have great BCs and can really let the Disco stretch out its range...
Bob