Although high end break barrel guns lock up at the breach relatively well, that's not the case with lower end ones especially with time. The small inaccuracy as a result when using a scope isn't a big deal for most people unless they're accuracy obsessed like I am. It's one of the big reasons I bought an underlever springer which gave me peace of mind.
Manufacturers like to claim their break barrel guns are as accurate as under and side lever models. If that was true why do they always put the rear open sight on the breach block instead of all the way back on the spring tube mounted on the dove tales which would make it twice as accurate? Gee, could it be because they sell millions of the less expensive to make break barrels?
I was recently given an old cheap gun with a little play in the break barrel action and terrible accuracy with a scope. So I thought I'd try an idea I had that may have been done before, I don't know.
I attached a bar to the breach block so a pistol scope or red dot sight could be mounted that wouldn't be affected by any lock up inconsistency. In this case I simply welded it on but with a better gun I would drill and tap the breach block so the rail could be screwed on. Perhaps a longer rail could support a rifle scope but it would have to be very sturdy.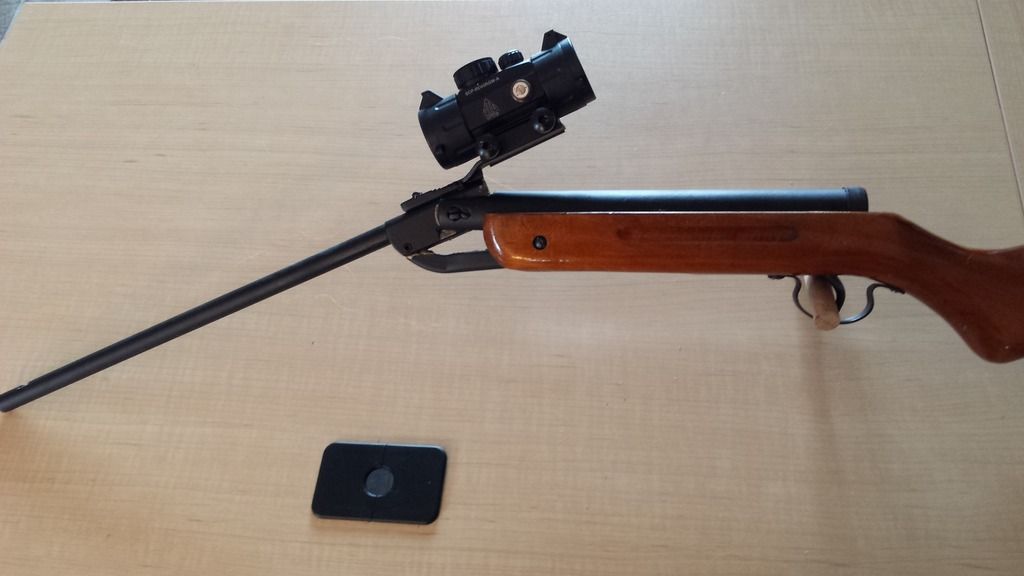 Wow! I don't have a pistol scope but with this red dot sight and these old eyes I was easily shooting sub 1/2" groups at 12.5 yards.
Now all of a sudden I'm in the market for a good break barrel.