My Brother, Taylor, just picked up a new-to-him rifle. It is a Joseph Lang 16 bore single barrel rifle of decent quality, fit and finish. 10 years ago, when this rifle surfaced in B.C., it appeared to have never been fired, that is- brand new. The owner at that time was not a ML shooter, and he never fired it, however the idiot did snap the hammer on the nipple, riveting the nipple some, as well as damaging the stock here and there, both sides at the side plate escutcheons that confine the wedge. He did not understand the wedge was a 'captured sedge' and proceeded to pry it out with a screwdriver, further damaging a previously unmarked/damaged stock. A friend of ours bought it for the exhorbidant price just to get it out of the idiot's hands.
My bro just bought it from Don a month ago.
Here is his post concerning the shooting test:
"Daryl and I went to our gun club this morning to fire the Joseph Lang rifle (posted in Antique Forum) and have some fun. Daryl brought his Taylor Made .69 cal rifle...he's not the kind who can just watch. With my Lang rifle I chose to start with three drams of GOEX 2Fg (82 gr.) and the .650" ball cast in my new Jeff Tanner mould. At 40 yds, where the first target stand happened to be this morning, my rifle produced a ragged one hole group. I found I had to tap the rear sight just a tad left to centre the group, and it shot some three and a half inches high using the 100 yd. sight at this close range.
At 100 m. (109 yds) and with the same sight picture and sight, the rifle shot about four inches low, so I held, as best I could, a little of the front blade and bead above the bottom of the notch and fired a five shot group. I had increased the charge to 85 gr. just so it'd be easier to reset later. I must say, I am not disappointed with the rifle's accuracy, with this first outing. I found my patches were a little thin and had cut marks from the lands, so I had switched to some of Daryl's patches, lubed with a blue wet stuff.
Meanwhile, Daryl shot his five shot group as well. The results are posted below...comments are welcome, as if I could prevent it!"
Decent shape for a 154 year old rifle.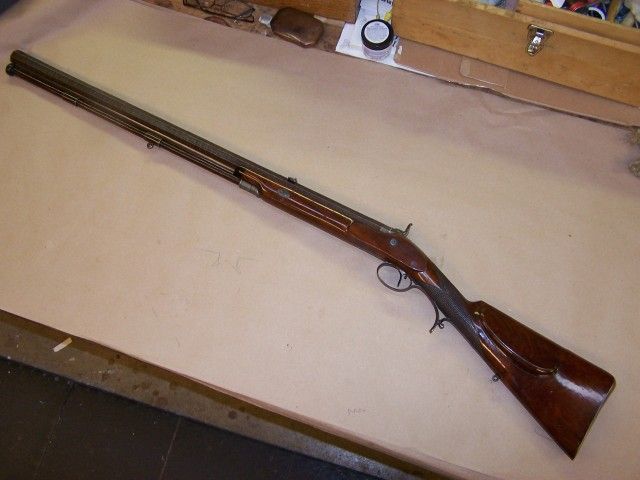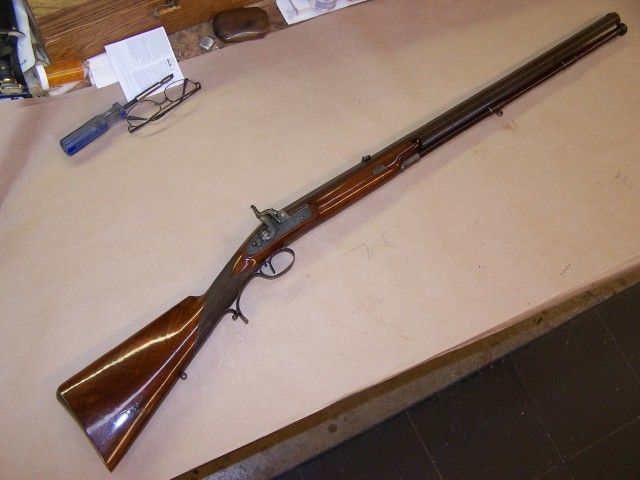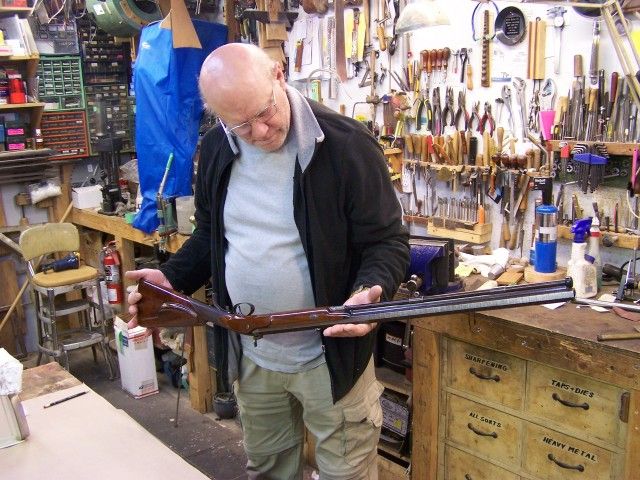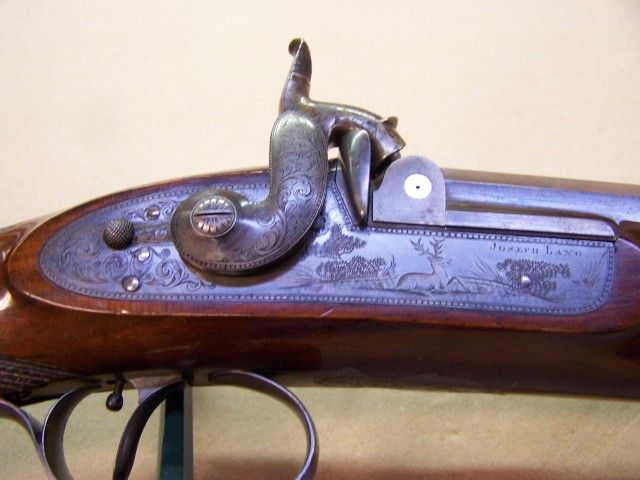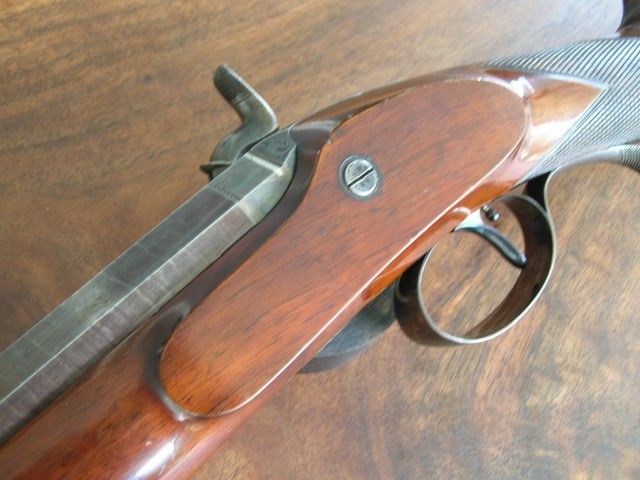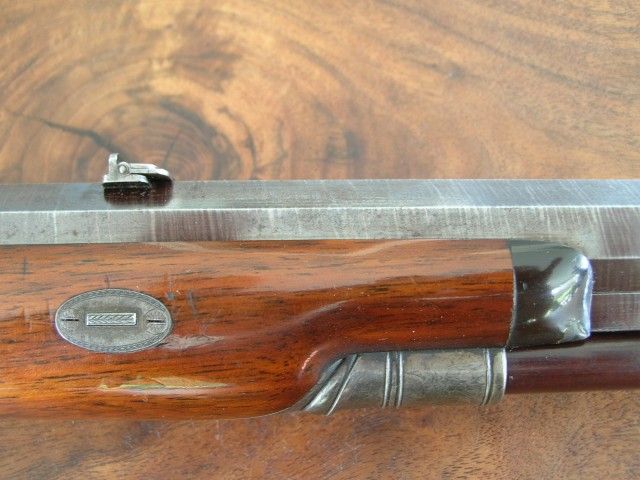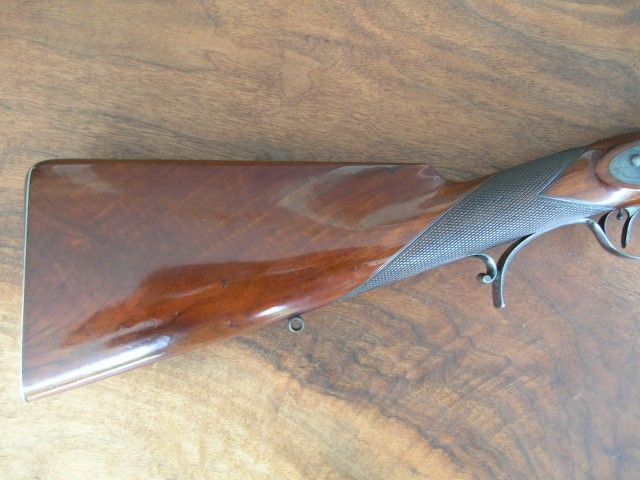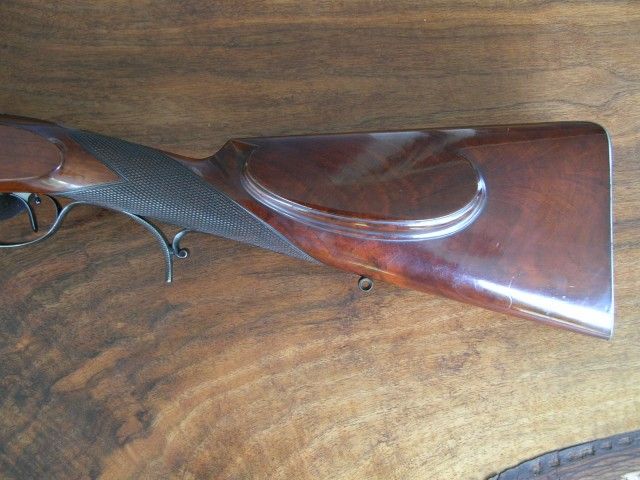 So- yesterday, we went to the range to test the Lang. Not one to simply watch, I bought my own English Sporting rifle along, a 14 bore, built by Taylor in 1986.
The initial tests with the Lang were very promising. We both shot a 5-shot group at 100 meters, however by the time we got the proper sights in use on both rifles, there were other holes in the target, so Taylor made facsimiles of the last 5 shots from each rifle.
I am sure, with a bit of further load preparation, Taylor's rifle will tighten up it's groups.
My 'old' 14 bore blister pulled a shot - oh well. There are 4 out of 5, running 1.052" on centres. Yeah - my flub, certainly not the rifle's. It still seems to want to shoot.