Hi everyone,
I purchased a Ruger Airhawk a few weeks ago and have been breaking it in. The first thing I did was stick on the scope and calibrate it, and have been able to shoot inside under 1" circles from 25 feet away using the kneeling position like this: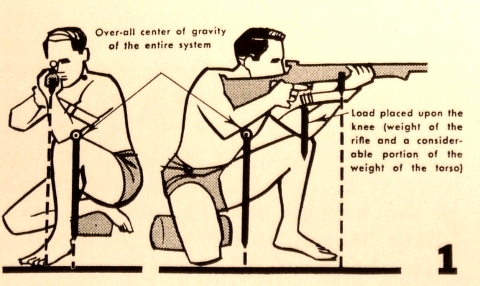 While this has worked well, I have found that I have reached the limit on my aim and cannot tighten my accuracy even playing with the scope settings. There is no way I can hold steadier and the scope only serves to magnify my perception of how much I am drifting around while trying to steady the heavy Ruger rifle before firing. It seems to have also taken away some of my "fun of learning" because it is just too darn good for my 25 foot shooting distance.
Therefore, I took off the scope and worked on calibrating the regular sights. I managed to calibrate them fairly well and also noticed I need to hold the rifle a bit differently to look and line them up, versus the scope. After some fun at getting the sight set up properly I was able to get within about 2" circles from the same distance. The problem is that I can barely see the bullseye target from that distance (I usually draw a 2" diameter circle with a Black Sharpie marker on a piece of 2x4 and aim to hit inside that).
Any thoughts about a beginner air rifle shooter like myself and whether I should be learning with sights or scopes (or both) and at a 25 ft distance what I should be aiming to get to regarding accuracy? It is a 490 fps rifle (Canadian version) and I'm shooting indoors in a not-so-well lit basement for now.
I can't go any further distances in my basement yet, and I have no place to shoot outside. However I imagine that I will need a scope for any further distances because even at 25 ft I can barely see anything under 1-2" size at 25 ft away. When I don't use a scope it "seems" I am holding it steadier because I am not seeing all my movement which the scope magnifies and at least lets me compensate for, but when I examine my target I am definitely not as tight as when I am using a scope. At least for now... maybe with more practice it gets better, or am I already limited by some things I can't change easily (eyes and hand steadiness)?