I have decided that instead of passing this issue onto another person - I will try and figure out how to fix it myself - with some help of some kind people; I hope...
I bought this Webley Alecto/Zoraki HP-01 Light .22 Pistol used and it worked perfectly for the 1st month or two - pumping up perfectly and shooting very consistently and accurately at 3 pumps.
Then - all of a sudden it simply wouldn't pump up correctly anymore - it would just pump up but NO pressure was being retained so nothing would happen and the pellet wouldn't even budge.
Then I noticed that this was happening:
In the 1st pic with that bridge part sitting back - nothing would happen; but in the 2nd pic if I manually moved the bridge part up to the forward position it would very consistently retain lots of pressure - but now it would only SOMETIMES work properly and fire the pellet and other times when I pulled the trigger it would just go - pffft and no pressure would be released and the pellet wouldn't budge at all - and other times it would work perfectly again and it would fire the pellet out forcefully and accurately.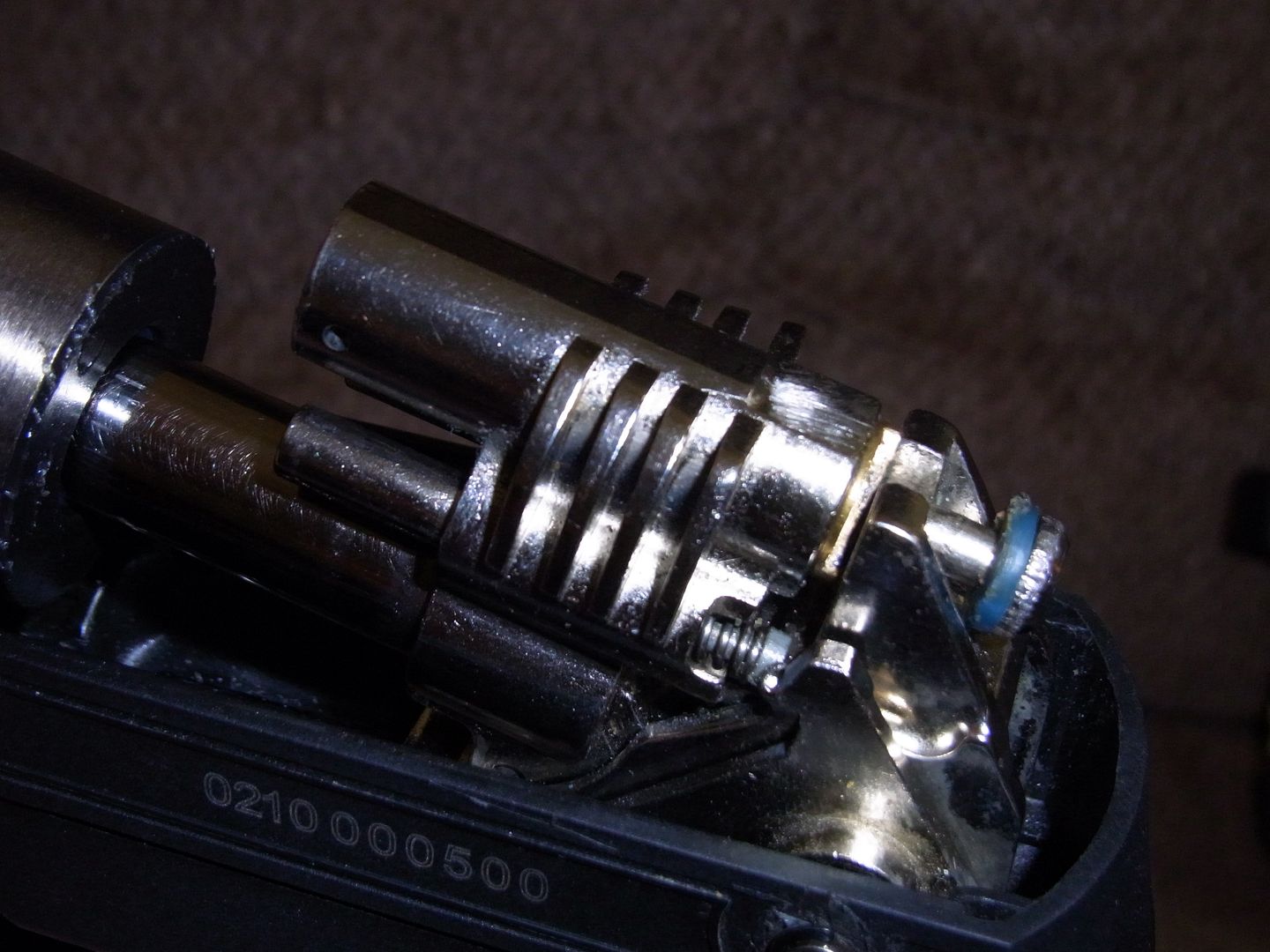 If anyone has any ideas as to what is going on - I would greatly appreciate your thoughts...
I also got this response on the Yellow Forum:
Quote:
Hi Doug, My Alecto did exactly the same thing and all I did was to rotate the little part you are talking about. I would move it around clockwise and counter clockwise as well as in and out and it started working again. Pretty cool guns, and accurate too. I think that some tiny thing was causing it not to seal, and the minipulating of the plunger thing must have removed the debris. But I'm not sure...just worked for me!
Be sure to do an old search on it too, there's a bunch of stuff on alectos in the past here. Good luck.
My response:
Quote:
Thanks for the response - I have tried to move that screw back and forth - and it actually fires maybe 1 in 10 tries.

The rest of the time is makes a fairly loud HMMPH sound that sounds live a lot of pressure is being released - just not down the barrel as it will not fire the pellet...