I have been working with Al Nelson at NOE Moulds to increase the number of pellet moulds available so that airgunners can cast their own pellets, reducing the cost per shot.... These designs are based on the successful .25 and .30 cal moulds that NOE already have available, with a round-nosed design with a 60% meplat that makes the pellet hit harder, and is required for the nose-pour style moulds that NOE is producing.... They are using their proven "RG" pin system to provide three different depths of base cavity so that you can fine tune the weight and CG location for what works best in your gun.... As part of this major entry into supplying Diabolo style (waisted) pellets, NOE have decided to name the pellets to make their use clear.... The existing .25 and .30 cal moulds, because they were designed at the heavy end of the spectrum within each caliber will be called "Magnum Hunter" pellets, and that series will now be expanded to cover .22, .35 and .45 calibers.... There were requests for shorter, lighter pellets in .25 and .30 cal, and that will be available in the new "Hunter" series, covering those calibers, plus .22 cal as well.... In addition, a .22 cal Wadcutter design will complete the line-up, dubbed a "Target" pellet....
First of all, here are the two existing designs, currently available in the NOE Online Store....
Here are the new lighter weight offerings in these two calibers....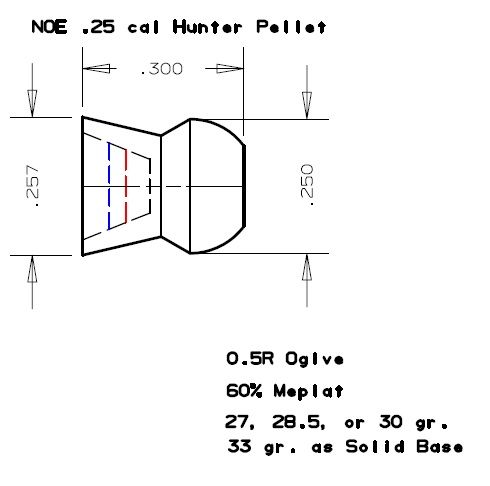 and here are the new .35 and .45 cal designs.... It is planned to offer the .45 cal in 0.452" and 0.457" head diameters....
Finally, here is the new .22 cal line-up of NOE pellets....
As I understand it, Al plans to produce these designs ASAP and place the moulds in the store without using Group Buys.... This will reduce the time required for the new pellets to proceed through the NOE system.... I will of course keep you informed as each new pellet mould is ready for purchase....
Bob
_________________
Dominion Marksman Silver Shield - 5890 x 6000 in 1976, and downhill ever since!
Airsonal;
Too many! Springers, Pumpers, CO2, but I love my PCPs and developing them!
Proud Member of the 2000+fps Club!