One of the things that is sometimes neglected, and seldom talked about, in Big Bore airguns, particularly ones that have been modified from smaller calibers, is the safety of the bolt locking mechanism.... Now it is obvious that the bolt must be strong enough to withstand the backwards force on it from firing, and should be designed with a safety margin of at least 3X that force.... What isn't often thought of, is what would happen if the gun was fired with the bolt closed, but not locked into place.... Usually that locking mechanism is the handle, pushed downwards into a slot.... Have you ever thought what might happen if you forgot to do that, or you bumped it upwards before firing?....
Once the bolt is not locked in place, when you fire the gun, it gets accelerated backwards at the same time the bullet is heading towards the muzzle.... It doesn't reach anything like the velocity of the bullet, but it does pick up significant energy, and the larger the caliber and the higher the pressure, the greater the FPE that ends up in the bolt.... If it comes to a sudden stop by hitting the back of the cocking slot, the forces on it are MUCH higher than you might ever imagine.... Lloyd Sikes has done some testing on this, and produced a series of three excellent videos to enlighten you.... I strongly suggest that you watch this series.... It will open your eyes as to what could happen if you forget than one simple thing.... to push the handle down to lock the bolt....
Here is a link to the thread on the GTA that Lloyd started.... followed by links to the three videos.... and a chart of just how much energy the bolt will have if you forget to lock it down....
https://www.gatewaytoairguns.org/GTA/in ... c=164640.0
https://youtu.be/wjeEzdDQItA
https://youtu.be/VQuyXPd-rE8
https://youtu.be/EQQTe7ETYqg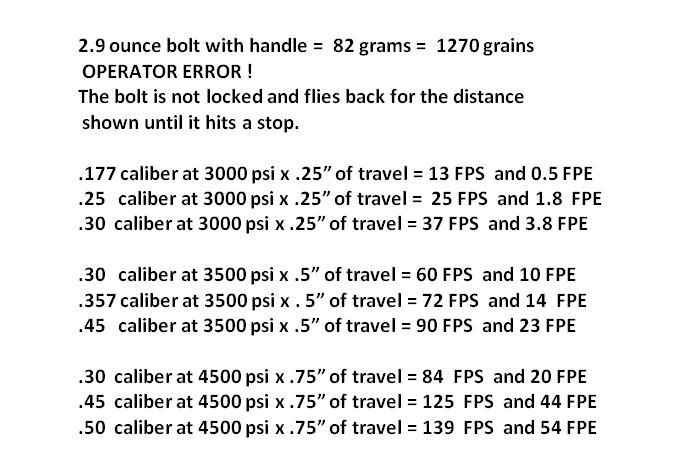 Lloyd put a lot of work into the testing and videos.... They are very educational and I hope you will take a half hour to view them.... It could just save your life !!!
Bob
_________________
Dominion Marksman Silver Shield - 5890 x 6000 in 1976, and downhill ever since!
Airsonal;
Too many! Springers, Pumpers, CO2, but I love my PCPs and developing them!
Proud Member of the 2000+fps Club!